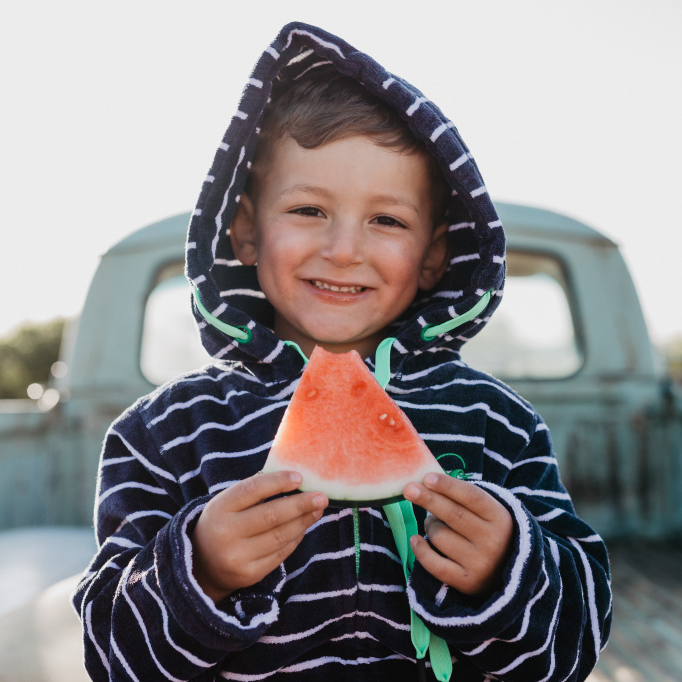 Following the festive food indulgence, it's not unfamiliar to feel inspired for fresh foods and a fresh start in the New Year.  But why not start now?
We're all inclined to head to the beach or the park on these warm summer days and pack some easy snacks for the family, but unfortunately they're often the ones processed and overly packaged. 
In an effort to feel lighter, have more energy, produce less plastic waste and get the kids (and me) away from head-achey sweets, we thought we'd have a look through our Aunty Heather's collection of cookbooks!  Searching through the faded, family loved recipes while on our summer holiday was a clever way to beat the heat in the middle of the day, it also meant the kids were reading without it feeling like homework! 
A lot of the older cookbooks weren't particularly helpful when it came to cutting back on the sugar (think of Grandma's raspberry slice or melting moments) but the best one we found was the Donna Hay Basics to Brilliance – Kids.
The recipes we decided to try out and pack for our day out were:
Chocolate Peanut Slice
Lime and Chilli Popcorn
Then for when we arrive home after getting a bit too much sun on our faces and sand in our pants:
Raspberry Coconut Pops
Banana Ice Cream
Our other go-to snacks that are tried, tested and timeless:
- Chilled watermelon
- Grapes and berries
- Home made pita chips and hummus
- Zucchini slice
With this new activity of baking on our list of things to do throughout the year, we're excited to try new recipes for school lunches.  Comment and let us know what you'd recommend for a healthy homemade summer snack!