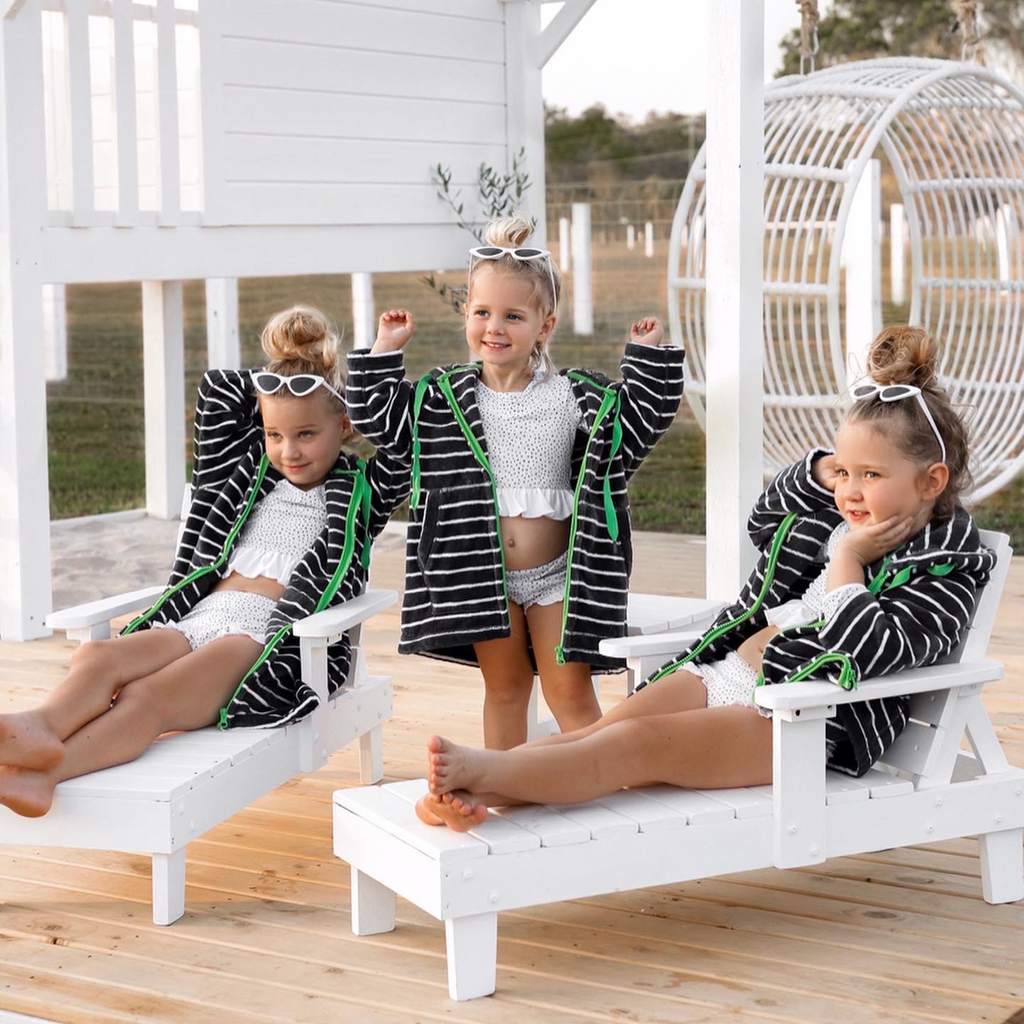 While the weather was heating up this summer, families with Swoodi Swim
Hoodies were keeping it cool. Big zip, snugly sleeves, a hood for hiding and
pockets for pennies, knick-knacks and knickers meant transitioning from bed
to beach to brunch with was an absolute breeze.
Welcoming the sunshine meant we needed to pull out the summer recipes!
Thanks to Woman's Weekly Magazine for the yummy
lemonade icy pole recipe
(click for recipe)
that got us started on our school holiday fun.
Pictured above: The Quinn Girls wearing Swoodi
The silly season approached with pace and luckily we were ready for
Swoodi's to hit the top of the Christmas list! The Quinn Girls (
click here to see
),
wearing our top seller, stayed warm and as wonderful as ever after
unwrapping their hooded towels. Seeing the smiles on the faces of toddlers,
tweens, teens and adults while wearing our product is enough to make the
busy days all worth it.
Pictured above: Tiny Tom
The greatest present of all was of course our new arrival to the Swoodi family,
Tiny Tom. A little brother to our assistants Max and Havanna, he has been the
highlight of an already sunny couple of months.
Pictured above: Mama & mini swim hoodies
While we were busy with baby snuggles, our latest release, the adult Swim
Hoodie, was busy getting some well deserved beach time. Being able to now
offer a unique and top quality product to the whole family is something we're
really proud of. Matching mummas to their mini me's will never be a trend
that we'll tire of!
Pictured above: Standish Tales napping in Swoodi
And when jumping waves, building sand castles and swimming laps has us all
tuckered out, it's time to cuddle up and get in a Swoodi snooze. The Standish
Tales (
click here)
completed our summer routine of swim, eat, snooze repeat
and reminded us of how lucky we are to have a towel robe that can take us
from the beach to brunch to bed.